1.The WACA Program
West Africa's coastal areas are home to about one-third of the region's population and generate about 56% of its Gross Domestic Product. However, these areas are affected by severe pressures such as rapid urbanization and increasing demands on natural resources. As a result, coastal areas face a number of serious and increasing threats, including coastal erosion, flooding, and pollution.
To address these challenges, the World Bank has been implementing the West Africa Coastal Areas Management (WACA) Program since December 2015. WACA Program consists of two pillars: WACA National Resilience Investment Projects (WACA ResIP), which finances countermeasure projects, and the WACA Platform, which scales collaboration, financing, knowledge, and dialogue for coastal resilience in the region.
2.WACA Japan Knowledge Network
The WACA Platform aims to simplify access to global knowledge, technology, experience and finance in the field of coastal zone management and to make them readily available to West African countries. To this end, WACA Knowledge Hubs have been established in countries recognized as leaders in relevant fields.
In September 2021, the WACA Japan Knowledge Network was established in Japan as one of the WACA Knowledge Hubs. As its interim coordinator, Infrastructure Development Institute – Japan (IDI) serves as a "concierge" for West African countries and Japanese organizations. IDI helps West African countries access to Japanese experience and knowledge on disaster risk reduction, and also helps Japanese water-related disaster management sector find opportunities to participate in WACA Programs implemented by the World Bank, West African countries, and other partners.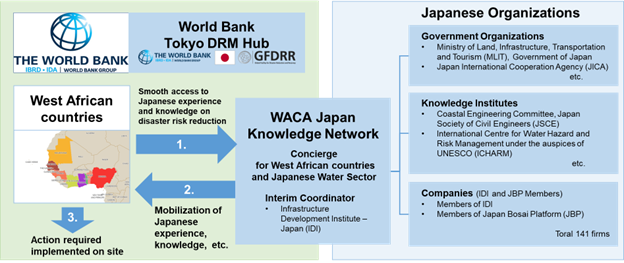 3.Activities of WACA Japan Knowledge Network